Men's Health
In an ideal world you'd get all of your essential vitamins and minerals from the food you eat. But looking at the Standard American Diet (yes, ironically the appropriate acronym SAD) the overall health of Americans, one thing is clear, only 12% of American's are metabolically healthy and most do NOT get the recommended amount of nutrients.
According to a recent meta-analysis of studies done by Oregon State University, 75 percent of Americans aren't eating the daily recommended amount of fruit, and 80 percent aren't eating enough vegetables. That means 94 percent Americans don't meet the daily recommended intake of Vitamin D, half of us don't get enough magnesium and 44 percent aren't getting enough calcium.
Many patients will say that they will eat a healthier nutrient rich diet but few ever fully implement the foods necessary for optimal health.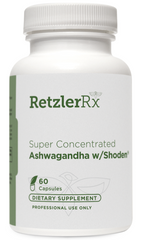 Ashwagandha w/ Shoden® 35% ...
*These statements have not been evaluated by the United States Food and Drug Administration. HormoneSynergy supplements are not meant to be taken as an alternative to prescription medications recommended by your physician. If you are seeking to replace any pharmaceutical medication with any of our products we recommend that you do so only after consulting your healthcare provider. *You should always speak with your doctor or health care professional before you start, stop, or change any prescribed part of your health care plan or treatment and to determine what course of therapy is right for you. This product is not intended to diagnose, treat, cure or prevent disease. The information provided about this or any HormoneSynergy nutritional supplement or any information contained on or in any product label or packaging is for informational purposes only and is not intended as a substitute for advice from your own physician or health care professional. You should always consult with a licensed healthcare professional before starting any diet, exercise or supplementation program, before taking any medication, or if you have or suspect you might have a health problem. As with any nutritional supplement do not take if you are pregnant or nursing or while taking medications without consulting your healthcare practitioner.