Metagenics Best Selling Products
Our Top 10 Metagenics Best Selling Products
If you are searching for Metagenics products that are not listed below, Dr. Retzler's Metagenics online store gives you access to Metagenics complete product lineup and that too gets delivered to directly to your door. Get 15% off your first order and 10% off recurring orders when ordering directly through Metagenics Online Store (Click and then go to "Create Account" to order).
HormoneSynergy and Dr. Retzler proudly offer our customers and patients Metagenics supplements and medical foods. The products listed below are in stock and available now to ship to you from our Portland Oregon office.
Favorites include Estrovera, Ultra Potent-C 1000 and Metagenics Zinc A.G
For supplements like multi vitamins or other items used month to month, you can set up a recurrent delivery so that you never go without your necessary supplements whether you purchase from this page or order through the Metagenics Portal.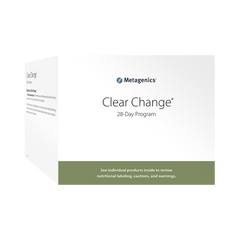 Clear Change® 28 Day Progra...
*These statements have not been evaluated by the United States Food and Drug Administration. HormoneSynergy supplements are not meant to be taken as an alternative to prescription medications recommended by your physician. If you are seeking to replace any pharmaceutical medication with any of our products we recommend that you do so only after consulting your healthcare provider. *You should always speak with your doctor or health care professional before you start, stop, or change any prescribed part of your health care plan or treatment and to determine what course of therapy is right for you. This product is not intended to diagnose, treat, cure or prevent disease. The information provided about this or any HormoneSynergy nutritional supplement or any information contained on or in any product label or packaging is for informational purposes only and is not intended as a substitute for advice from your own physician or health care professional. You should always consult with a licensed healthcare professional before starting any diet, exercise or supplementation program, before taking any medication, or if you have or suspect you might have a health problem. As with any nutritional supplement do not take if you are pregnant or nursing or while taking medications without consulting your healthcare practitioner.