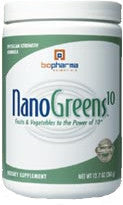 BioPharma Nanogreens
Description:
BioPharma NanoGreens10®, Vegetable and Fruit SuperFood is a super greens food that supplements your diet with up to 10 servings of fruits and vegetables. Ongoing nutritional research has demonstrated that optimizing phytonutrient intake by eating 7 to 13 servings a day may:
increase energy, naturally, without stimulants reduce appetite*
improve metabolism*
assist weight loss efforts restore regular elimination and assist digestion reduce inflammation*
relieve stiff and achy joints and muscles lower risk of cancer, diabetes, heart disease and stroke*
inhibit hardening of the arteries protect your vision from age related vision loss and blindness (ARMD)*
maintain strong bones*
support immune function and increase resistance to infections*
reduce allergy symptoms without drowsiness*
improve mental acuity and protect mind and memory*
detoxify toxic metals and chemicals help slow aging of the skin and dulling of the hair*
BioPharma Nanogreens Supplement Facts:
Serving Size 12g
Servings Per Scoop/Packet: 1
Amount Per Serving Calories 50 (Calories from fat 12)
Total Fat 1.5g
Saturated Fat 0g
Trans Fat 0g
Cholesterol 0g
Sodium 24mg
Potassium 152mg
Total Carbohydrate 8g,
Dietary Fiber <1g,
Sugars 3g
Protein 2g
BioPharma Nanogreens Ingredients:
Vitamin A 2500 IU 50%
Vitamin C 30mg 50%
Greens Blend (Proprietary) 2350 mg Barley Grass Juice Powder*, Spirulina*, Chlorella (Japanese soft shell)
Phyto-Nutrient Blend (Proprietary) 325 mg Blueberry, Green Tea Extract, Grape Seed Extract, Cranberry, Raspberry, Tart Cherry, Pine Bark Extract, Broccoli, Tomato, Carrot, Spinach, Kale, Brussels Sprout, Bilberry, Elderberry, Pomegranate, Blackberry
Isoquercitin/Rutin 50/50 160 mg
Raspberry Extract (20% Ellagic Acid) 50 mg
Fruit & Vegetable Blend (Proprietary; freeze-dried, low temperature dried) 900 mg Apple*, Carrot*, Mango*, Sweet Potato*, Lemon*, Parsley*, Peach*, Kale*, Broccoli*, Spinach*, Leek*, Beet* , Cranberry* (Quinic Acid 6%)
Acerola Cherry Powder* (17.5% Ascorbic Acid) 175 mg
Rice Bran Soluble* 2500 mg
Aloe Vera Powder Extract* (100:1 freeze dried) 30 mg
Green Tea, White Tea (decaffeinated, 50% Polyphenol) 100 mg
Polygonum Cuspidatum (15% Resveratrol) 50 mg
Oat Beta Glucan* 2200 mg Cinnamon Blend (Proprietary) 50 mg  (Cinnamon Extract 8%, Cinnamon Bark Powder*)
Milk Thistle (20% Silymarin) 50 mg
Marigold Extract (5% Lutein with Zeaxanthin) 50 mg
Dunaliella Salina (Natural Carotenoids) 100 mg
Enzymes (plant-based) 40 mg Alpha Amylase, Bromelain, Cellulase, Galactosidase, Glucoamylase, Hemicellulase, Lipase, Papain, Protease
Lecithin (non GMO) 1925 mg
Cabbage (Japanese, fermented) 30 mg
Lycopene Extract-10% (from tomato) 25 mg
Lemon Peel Powder* 25 mg
Quinoa Sprout* 90 mg
Artichoke Extract (5% Cynarin) 20 mg
Atlantic Kelp Powder* (Laminara Digitata) 20 mg
*These statements have not been evaluated by the United States Food and Drug Administration. HormoneSynergy supplements are not meant to be taken as an alternative to prescription medications recommended by your physician. If you are seeking to replace any pharmaceutical medication with any of our products we recommend that you do so only after consulting your healthcare provider. *You should always speak with your doctor or health care professional before you start, stop, or change any prescribed part of your health care plan or treatment and to determine what course of therapy is right for you. This product is not intended to diagnose, treat, cure or prevent disease. The information provided about this or any HormoneSynergy® nutritional supplement or any information contained on or in any product label or packaging is for informational purposes only and is not intended as a substitute for advice from your own physician or health care professional. You should always consult with a licensed healthcare professional before starting any diet, exercise or supplementation program, before taking any medication, or if you have or suspect you might have a health problem. As with any nutritional supplement do not take if you are pregnant or nursing or while taking medications without consulting your healthcare practitioner.