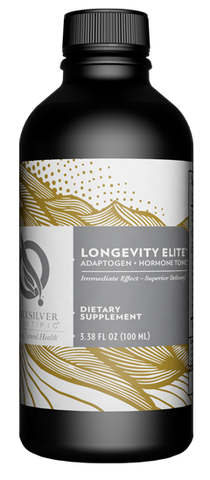 Longevity Elite 3.38 fl oz
Description:
Our master adaptogen and hormone tonic is designed to provide ongoing age optimization support targeting sex and stress hormone balance while targeting AMPK, sirtuins, and telomeres – our foundational longevity mechanisms in the body. Longevity Elite's advanced nanoemulsion formula blends premium sourced adaptogenic herb extracts and isolates and the key hormone precursor pregnenolone.*
The Ultimate Age Rebel
Powers Longevity & Healthspan – Time-honored herbs work elegantly to support your influential HPA axis, a network of endocrine glands, hormones, and neurons that regulate determining factors for healthspan.*
Supports Hormonal Balance – Hormone imbalance is a primary driver of aging. This formula includes the "mother hormone" pregnenolone — a powerful precursor in the creation of all human sex and stress hormones — and the support you need for aging well.*
Enhances Stress Resilience – The adaptogen blend in Longevity Elite™ is designed to support the adaptive stress response, giving your body more resilience in the face of occasional life stressors and the agility to return seamlessly to a "rest and digest" state.*
*These statements have not been evaluated by the United States Food and Drug Administration. HormoneSynergy supplements are not meant to be taken as an alternative to prescription medications recommended by your physician. If you are seeking to replace any pharmaceutical medication with any of our products we recommend that you do so only after consulting your healthcare provider. *You should always speak with your doctor or health care professional before you start, stop, or change any prescribed part of your health care plan or treatment and to determine what course of therapy is right for you. This product is not intended to diagnose, treat, cure or prevent disease. The information provided about this or any HormoneSynergy® nutritional supplement or any information contained on or in any product label or packaging is for informational purposes only and is not intended as a substitute for advice from your own physician or health care professional. You should always consult with a licensed healthcare professional before starting any diet, exercise or supplementation program, before taking any medication, or if you have or suspect you might have a health problem. As with any nutritional supplement do not take if you are pregnant or nursing or while taking medications without consulting your healthcare practitioner.