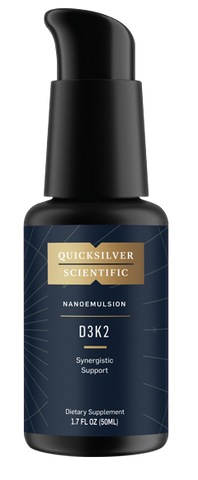 Nanoemulsified D3K2 1.7 fl oz
Description:
Nanoemulsified D3K2 is a highly-bioavailable liposomal blend of two fat-soluble nutrients, vitamins D3 and K2. Vitamin D3 (as cholecalciferol) is a fat-soluble vitamin with pleiotropic effects on the body. Vitamin D enhances immune tolerance, reducing inappropriate immune responses to one's own tissues. Simultaneously, it enhances immune defenses. Vitamin K2 (as menaquinone-7) is another fat-soluble vitamin that is frequently deficient even in the most wholesome diets. Vitamin K2 works synergistically with D3 to support cardiovascular and bone health by directing dietary calcium towards the bone matrix while diverting it from soft tissues, where it can promote soft tissue calcification. Our formula provides K2 as MK-7, a highly bioactive form of the vitamin.
*These statements have not been evaluated by the United States Food and Drug Administration. HormoneSynergy supplements are not meant to be taken as an alternative to prescription medications recommended by your physician. If you are seeking to replace any pharmaceutical medication with any of our products we recommend that you do so only after consulting your healthcare provider. *You should always speak with your doctor or health care professional before you start, stop, or change any prescribed part of your health care plan or treatment and to determine what course of therapy is right for you. This product is not intended to diagnose, treat, cure or prevent disease. The information provided about this or any HormoneSynergy® nutritional supplement or any information contained on or in any product label or packaging is for informational purposes only and is not intended as a substitute for advice from your own physician or health care professional. You should always consult with a licensed healthcare professional before starting any diet, exercise or supplementation program, before taking any medication, or if you have or suspect you might have a health problem. As with any nutritional supplement do not take if you are pregnant or nursing or while taking medications without consulting your healthcare practitioner.