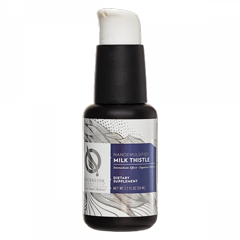 Nanoemulsified Milk Thistle 1.7 oz
Description:
Milk thistle is rich in silymarin, a mixture of bioactive flavonoids that protects the liver from chemical and environmental stressors, and supports liver cells' ability to synthesize new proteins, assisting the organ's regenerative capacity. Milk thistle helps increase glutathione production by upregulating the NrF2 pathway. Finally, this herb works to balance the activity of COX and LOX pathways to promote healthy inflammatory response.*
*These statements have not been evaluated by the United States Food and Drug Administration. HormoneSynergy supplements are not meant to be taken as an alternative to prescription medications recommended by your physician. If you are seeking to replace any pharmaceutical medication with any of our products we recommend that you do so only after consulting your healthcare provider. *You should always speak with your doctor or health care professional before you start, stop, or change any prescribed part of your health care plan or treatment and to determine what course of therapy is right for you. This product is not intended to diagnose, treat, cure or prevent disease. The information provided about this or any HormoneSynergy® nutritional supplement or any information contained on or in any product label or packaging is for informational purposes only and is not intended as a substitute for advice from your own physician or health care professional. You should always consult with a licensed healthcare professional before starting any diet, exercise or supplementation program, before taking any medication, or if you have or suspect you might have a health problem. As with any nutritional supplement do not take if you are pregnant or nursing or while taking medications without consulting your healthcare practitioner.